I have always had something for statement tee , the more awesome the quote the better. Pairing up a statement tee to look awesome is lots simpler than most think. Here I'll be showing off my favorite statement tee of all time while showing you how to pair it up and sharing an experience I had some time ago with a guy that made me go 'Boy Bye'.
Statement tee with Jeans (low waist or high waist) and sneakers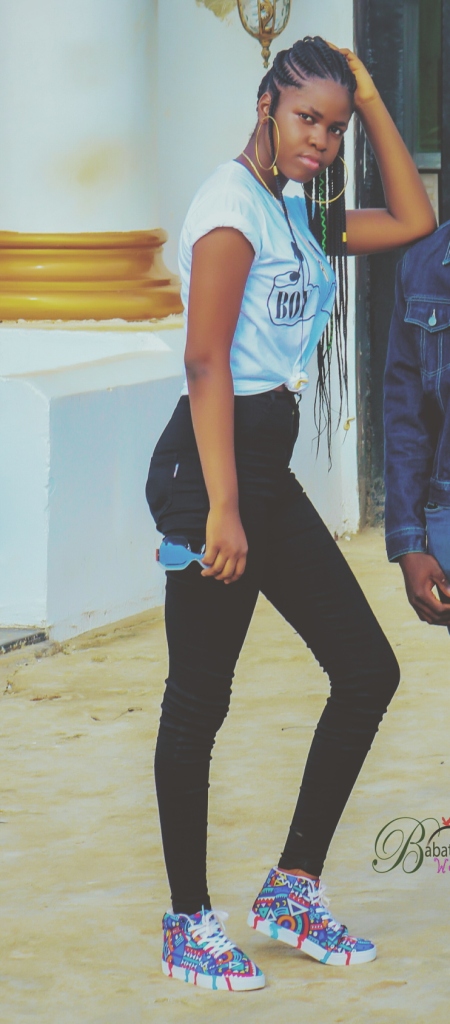 This is one of the easiest ways to style a statement tee, especially if you are in a rush or want to look really casual.  Simply pick a denim jean and a pair of sneakers and you are good to go.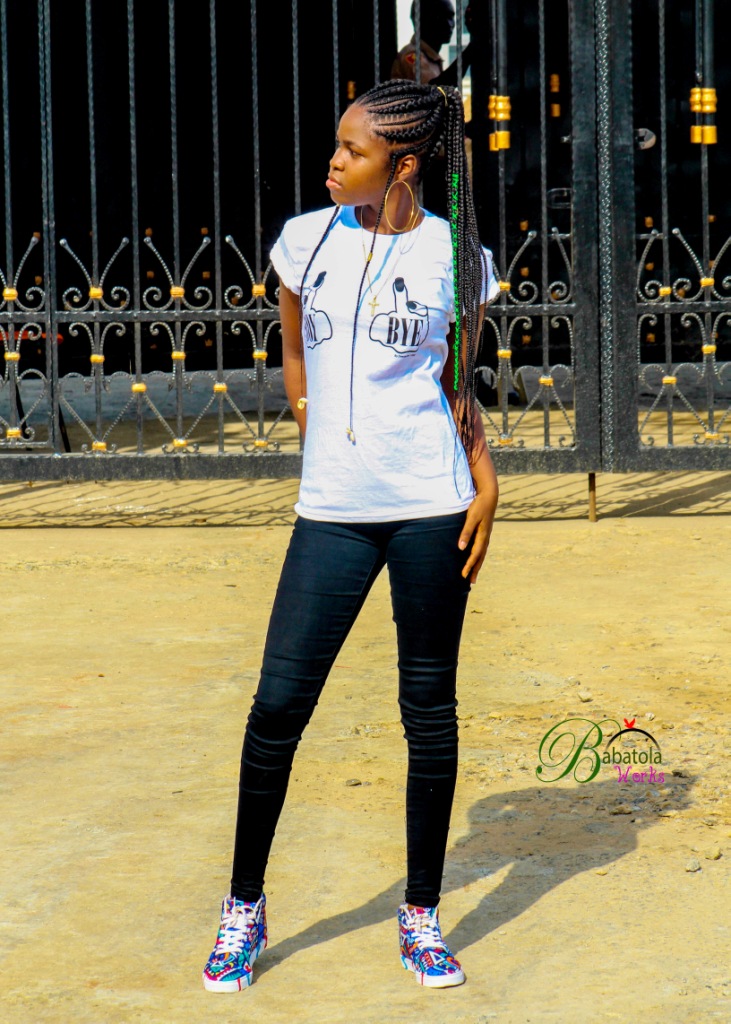 Outfit details: Statement tee and jeans from @dkhayempire
Shoes : A lucky buy at Sabo market,Sagamu.
photocredit: @babatolaphotography
So to the story I promised y'all.I went out on a date with a friend as a favor. Luckily, her date also came with someone else so it was not awkward and we had a fun time. I thought that I and Mr. X hit it off and that was confirmed when at the end of the night he asked for my number which I gave him. It was a good end to an outing I really was not sure of at first.
Statement tee and a skirt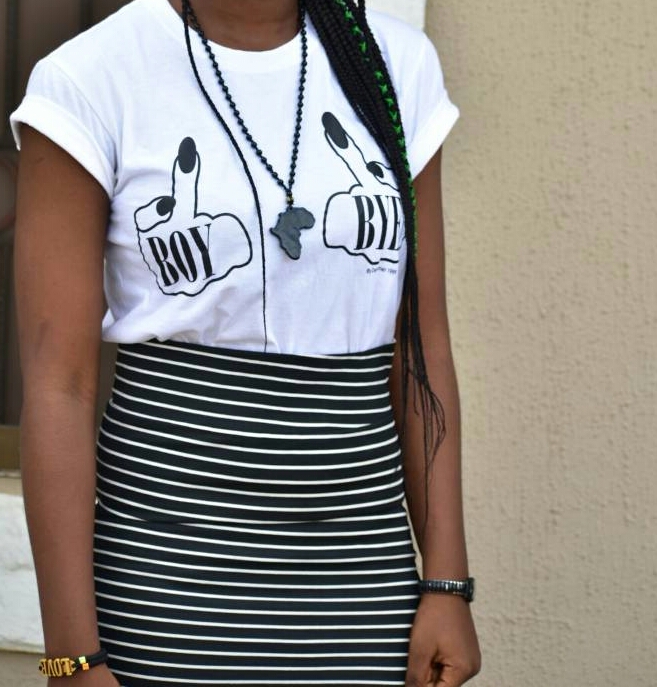 Pair a statement tee with either a pencil or pleated skirt to give a girly look. You can either dress this outfit up with heels or down with sneakers or sandals.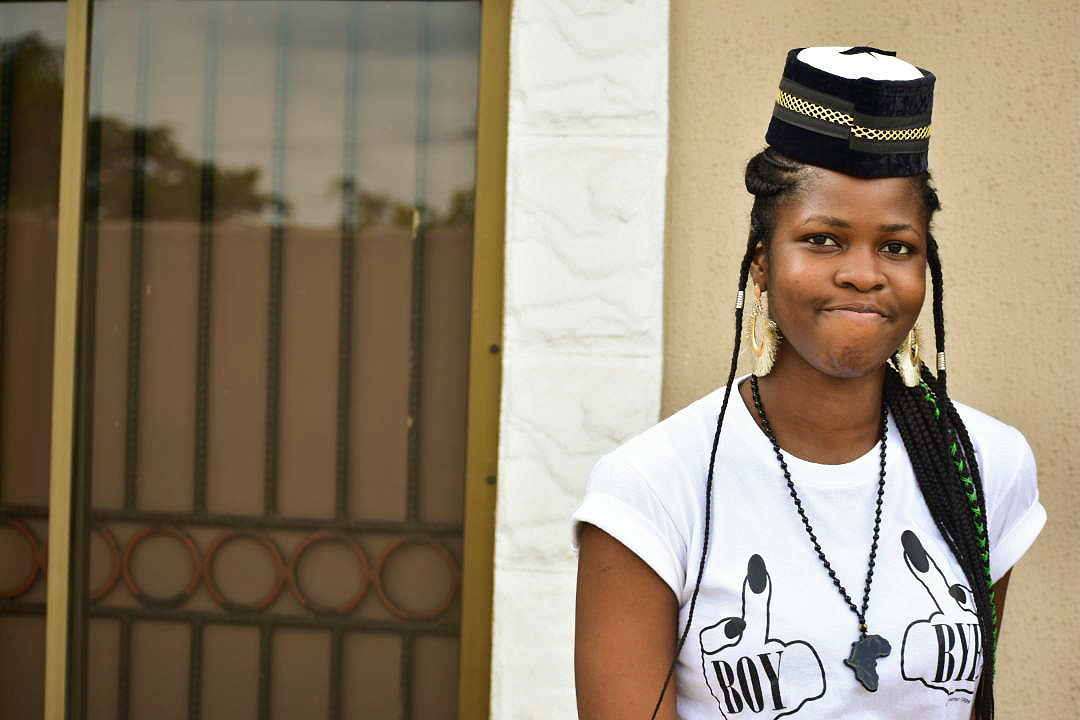 Tassel earrings by @jewelry_ave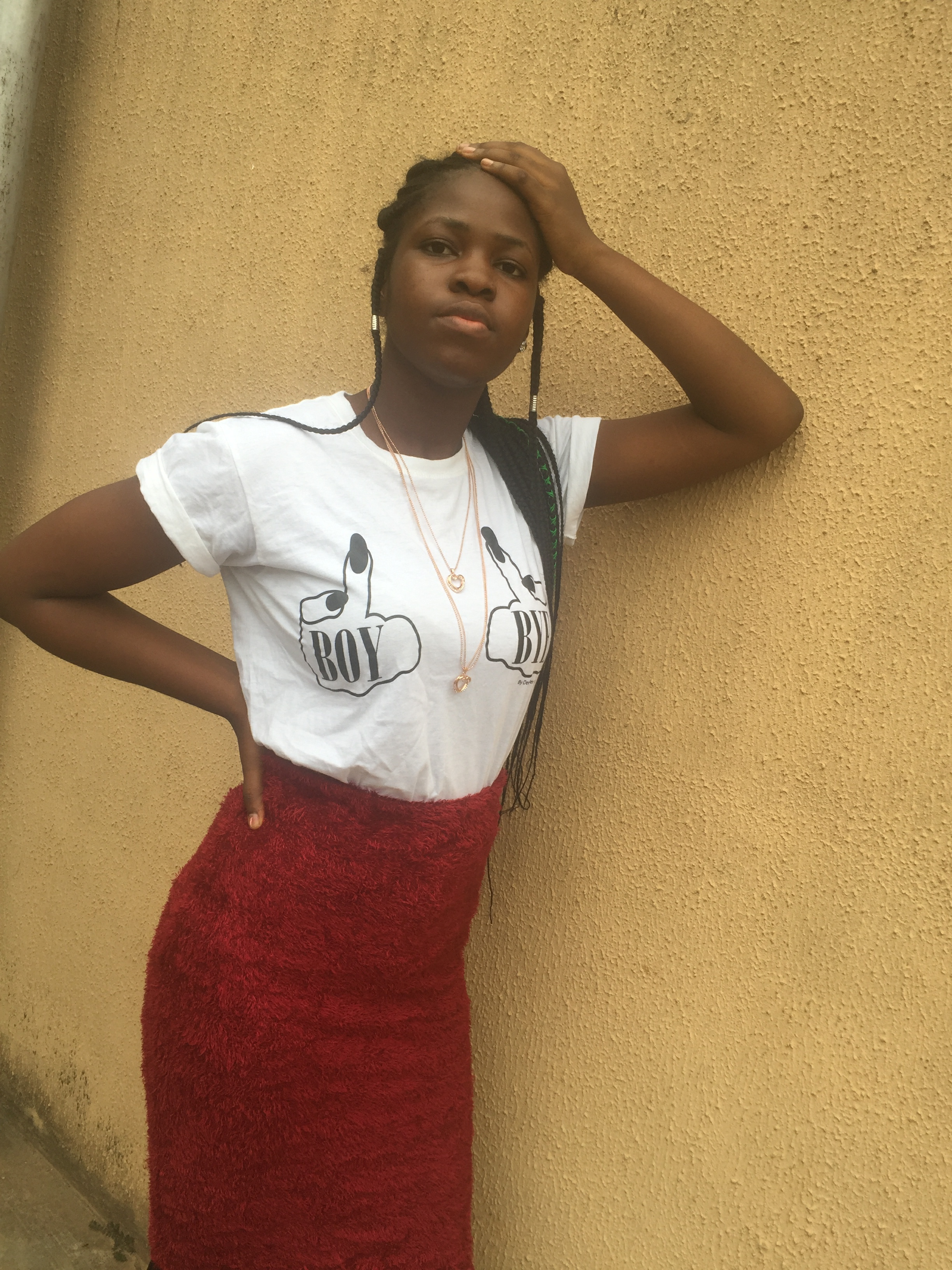 I rarely wear skirts so when I eventually do I like pairing them with statement tees to give it a bit of sass.
Back to Mr.X, after a few days we began to chat on whatsapp with a few calls here and there in between. We both went out a few times with my friend and her date. Throughout all these I felt like we vibed and he would be a great friend. Turns out I judged too quickly.
Statement tee with pant trousers and ballet flats (Sassy corporate outfit)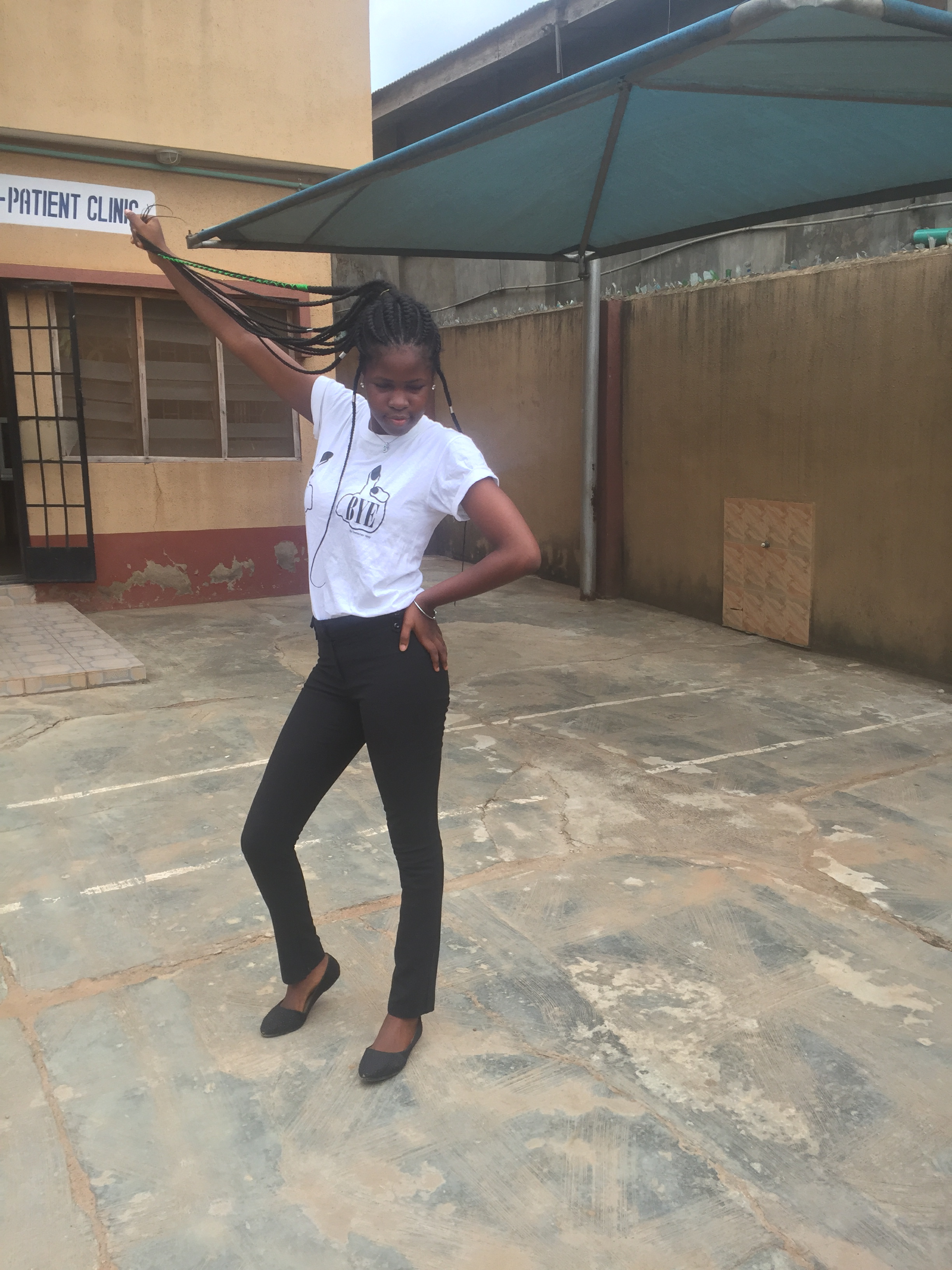 My first love outfit. Every time I have to go to school (we have a compulsory corporate dress code for school) I simply throw this on with or without a suit jacket. Dressing up for school can be a hassle but I have it down to a science now (a blog post on that coming soon) and this helps a lot.
Mr.X turned out to be an asshole pretty soon enough. I and my friend went to pay them a visit at home on a sunny afternoon and while talking, he began to go sexual. He was basically operating on the assumption that I would sleep over and engage in sexual activities with him. Now there would have been nothing wrong if he would just take my emphatic 'NO' and move on. Instead he decide to behave like a petulant child and became nasty. He even went as far as to write me a whatsapp message basically saying "fuck off'. Good riddance I Said … Boy Bye!!!!!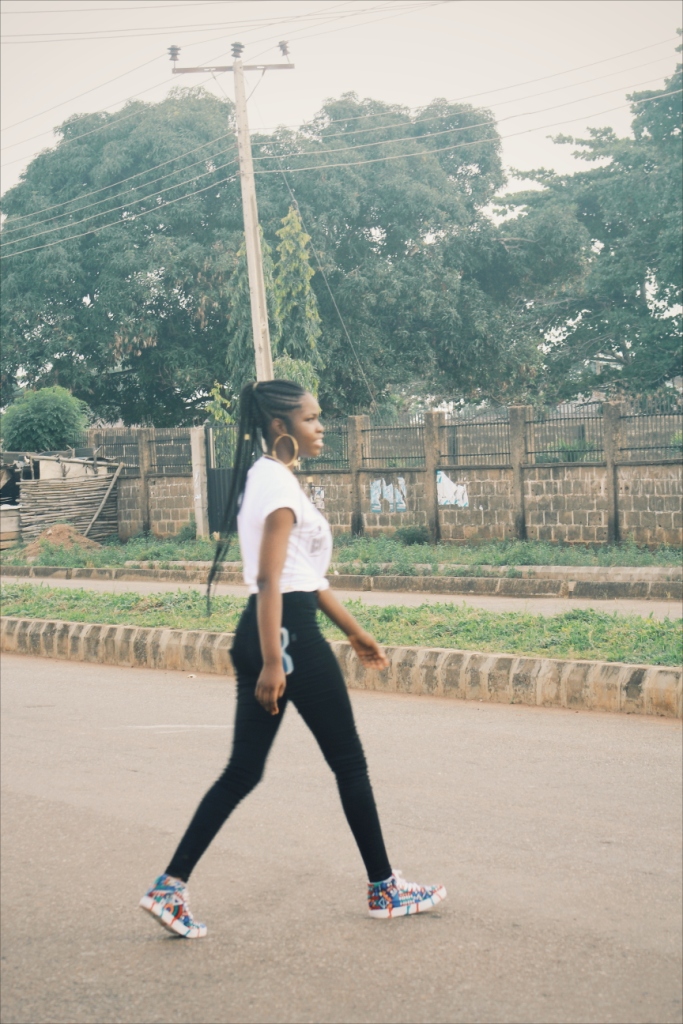 I was brought up to respect myself and have high self-esteem, so I would definitely not take any of that from a man no matter who he is. Ladies, remember when a guy begins to feel too important tell him to use the door and not let it hit him on his way out. We are queens and whoever is the one for you will definitely respect you. Thus ended the tale of Mr.X.
I hope you enjoyed this post, don't forget to catch up with me on social media and leave a comment.
Also a blog post on my gym escapedes coming up on thursday people. #woop woop
Lots of love from here. Xoxo.