6am Engagement Day
Alarm rings : 'Wake Up ! It's time to find a Sugar Daddy'
'Can it be 6am already? abeg oo , its too early to wake up let me sleep small'. The next time i woke up it was 7:15am .
Most times I wonder if I am the only one who absolutely hates mornings but if you see the speed at which I get dressed ehn when I'm late? I'm sure even The Flash cannot keep up. Knowing I was late, I speed dressed and did all I needed to do. Including last minute packing that I should have done the previous day. Packed, dressed in casuals and ready to go, I left Sagamu ready to set operation find sugar daddy in motion…
Off I go
In the cab to Lagos I decided to prepare for the first glimpse of my sugar daddy. He would be dark skinned, with a full beard oo not all those half formed beards. The type of beard I can caress with happiness and joy when I need some money. He must be taller than me, I'm not in for no midget. He can be slim or muscular sha. Ehn but if he has big pot belly I don't want ooo, I can still manage small pot belly but preferably he should have packs. As he enters the hall ehn, I'll be standing up trying to go outside. He will see me and he will just hook on the spot. After a few minutes he will nau come and met me and talk to me with his sweet sweet oyinbo accent #sigh.
'Oya oo, Ketu last bus stop, e bole KIA kia' (translation: ketu is the last bus stop, we are here, get down quickly). That's how the driver just spoilt all my fantasy sha, but ill soon see the real thing so my joy was still full. With extra joy in my step, I juggled two full bags and a heavy backpack on my back like I was carrying a bag of feathers. Into the alapeere bus I went and just as quick I was at my aunt's house. Dropping my bags, I picked up my phone to call my favorite girl and MUA @theglamfaery to check where she was at. Imagine my shock when she told me she was at ketu already. I really need to work on my not being punctual, imagine when your MUA gets to your place before you.
Make Up Wahala
As meenah got to my place, we got to work immediately. Well she got to work on my out of shape brows while I tried to keep still. A few minutes before, my mum had called me to ask where I was. I told her I was still at home and she shouted "ahhhh …. Bawo ni o se ma wa nile? Se o wo time ni? It's almost 10 o'clock and the engagement starts by 11pm. How will you get there in time?' 'Haba mummy, I'm at ketu it's really close to ikeja country club. I'll leave home soon and get there in time for the start of the engagement'.
30 minutes into making up and I was already fidgeting. In my mind I was lamenting the need for make-up. Sebi if I had a matured face nau I wouldn't need all this ones. Abi which kind of wahala is this? We even thank God that I wasn't shedding tears at all, unlike some other times I tried the make up thing. But no oo I must make up so that when my sugar daddy sees me he won't be arguing that I'm 18 years old #babyfacestruggles.
Ready to go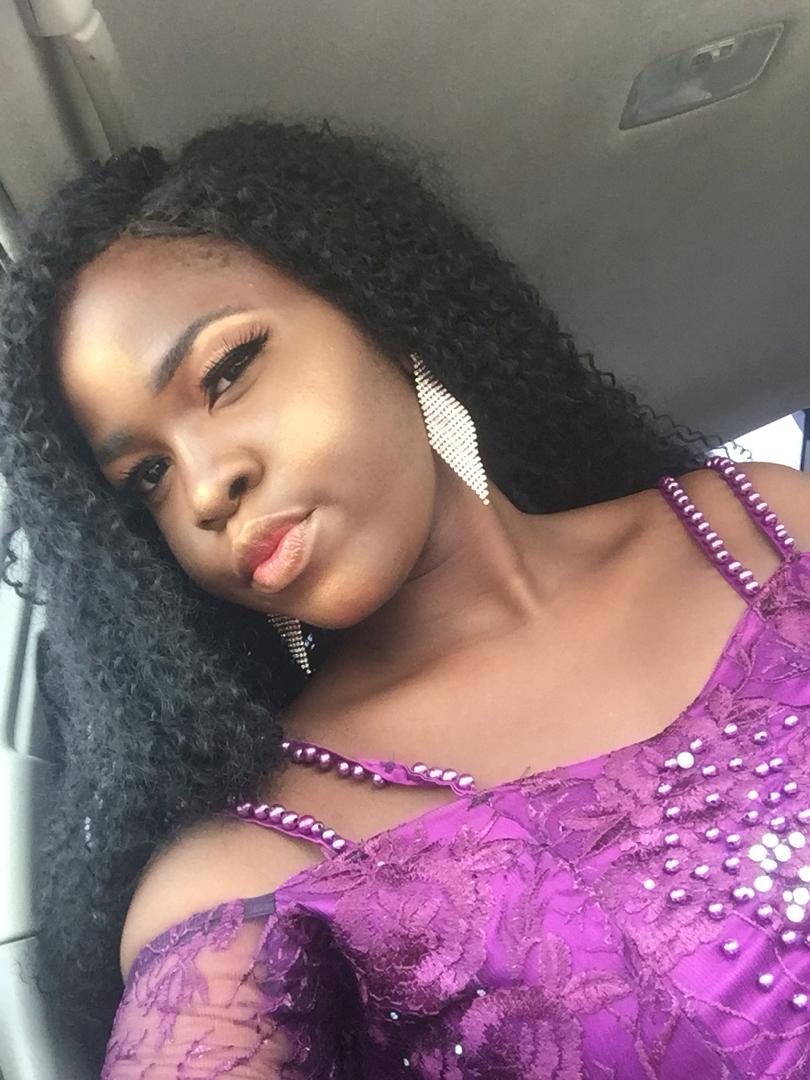 An hour plus later and I was ready to go go and go. I was dressed, having taken breaks in between the glamming up sesh to dress up. Yes ooo, In the same dress my nigerian tailor displayed her worst on (read the post). My glow was blinding haters in the far corners of the world and my @taxify.ng ride was a minute away from my pickup location. I headed outside and started competing with the sun for that shine, which is how much I was feeling myself ooo. My ride got there and I stepped into the fine car with pride. See ehn if you're fine, you're fine and if the car that comes to pick you up is fine too? Then na you fine pass.
By the time I got to the venue it was already almost 12oclock and I was picturing how my mother would roast my hide for coming late. It would all be worth it because the search for my sugar daddy just launched. Walking into the venue, I called my mum to come outside because I didn't know the hall they were to use. Mummy came outside and straight up announced to the world that I was her baby 'my beautiful baby girl. Wow! You look gorgeous'. My head quickly did some swelling on the side. I mean if my mum called me gorgeous obviously Na dem go dey rush me.
After hugging mummy, we walked into the waiting area as she told me that they were still setting up for the engagement and that both the bride's family and the groom's family were stuck (separately) in traffic. In my mind I was happy that Nigerians still strictly adhere to African time.
The party starts
About another hour and a few minutes after the party finally starts. I go to the restroom to tie my gele because I don't want to get someone to tie it for me to protect my new piercing.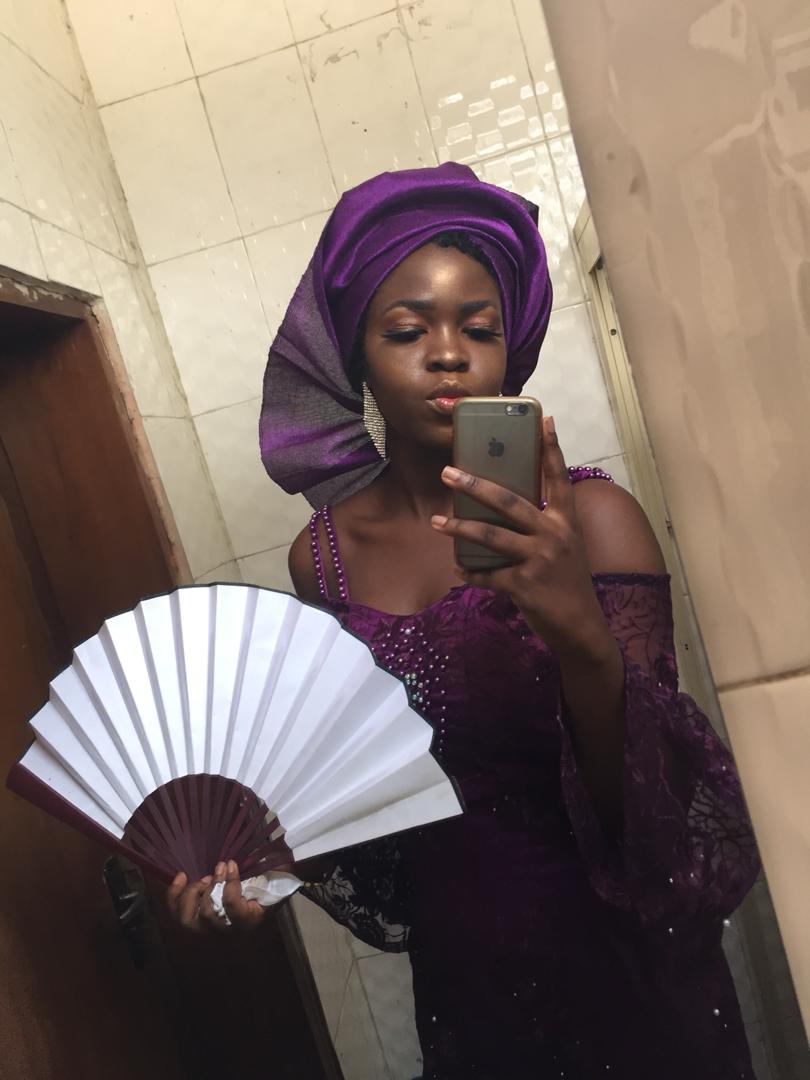 Going upstairs to the hall my first thought was 'wow!' the hall was simply beautiful.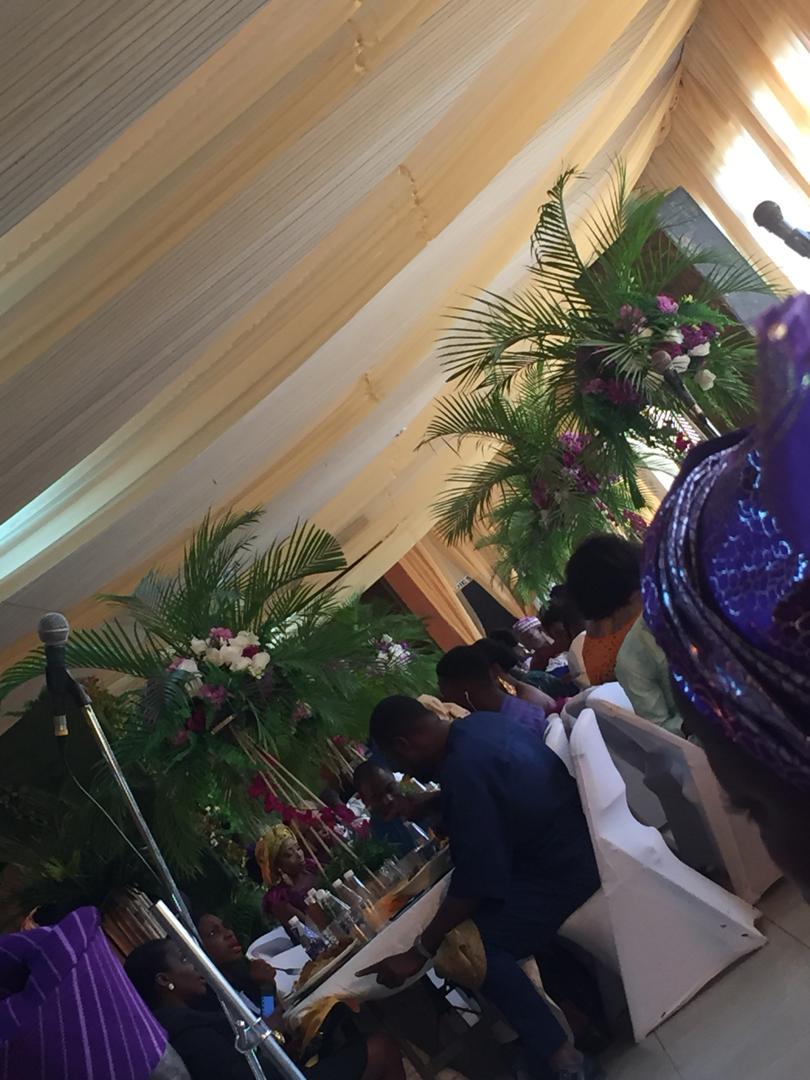 Soon I was seated on a table with my mum, her sisters and a few aunts. Little did I know that was my first mistake.
After settling down, my aunt called me aside to tell me that I needed to go and retie my gele as it was not good enough. It's like she just wanted to disgrace me, if my mother catches the piercings on my ear ehn…. I will be dead. Hesitantly I followed her and got my gele re-tied so tight my ear hurt and my head was overheating and yet the gele woman kept complaining that I wasn't putting my head well. After a serious battle with tears, my gele was tied and I was back in the hall.
Gele from the pits of hell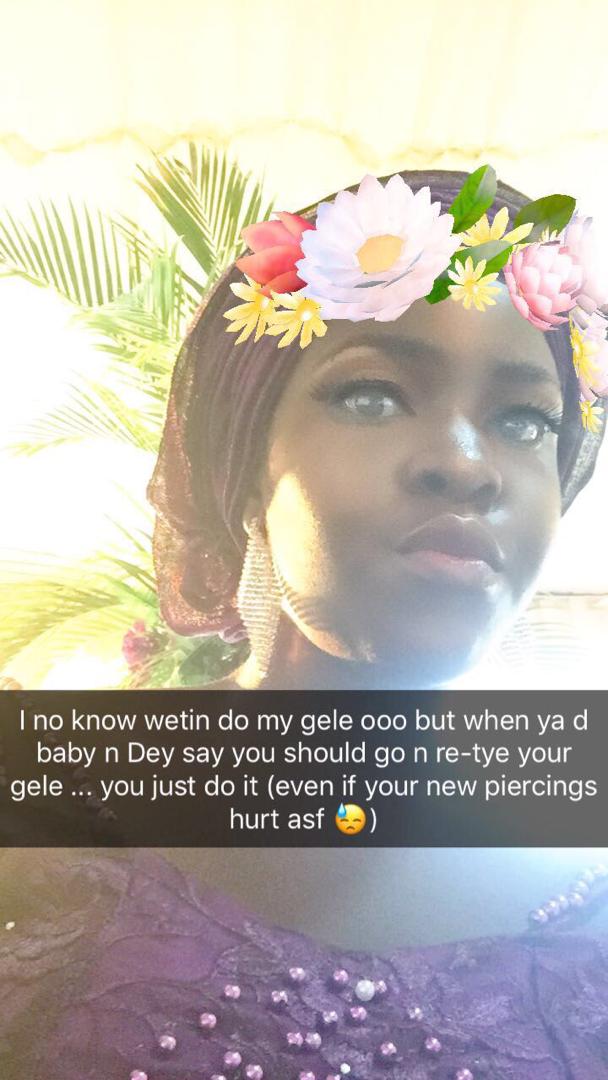 I stared to notice that there was a problem when instead of the pain reducing it increased. 'Abi e ma gba mi ke' (translation: abeg please save me oo) I couldn't even turn my head. The DJ was playing 'on the low by burna boy' and I was just looking like bread that was soaked inside water. Then they announced that the groom was about to enter. Even with all the pain I sharparly arranged a smile on my face and position myself very well to catch my big fish. God punish Satan, this is my year my chosen one will not pass me by.
I found my Sugar daddy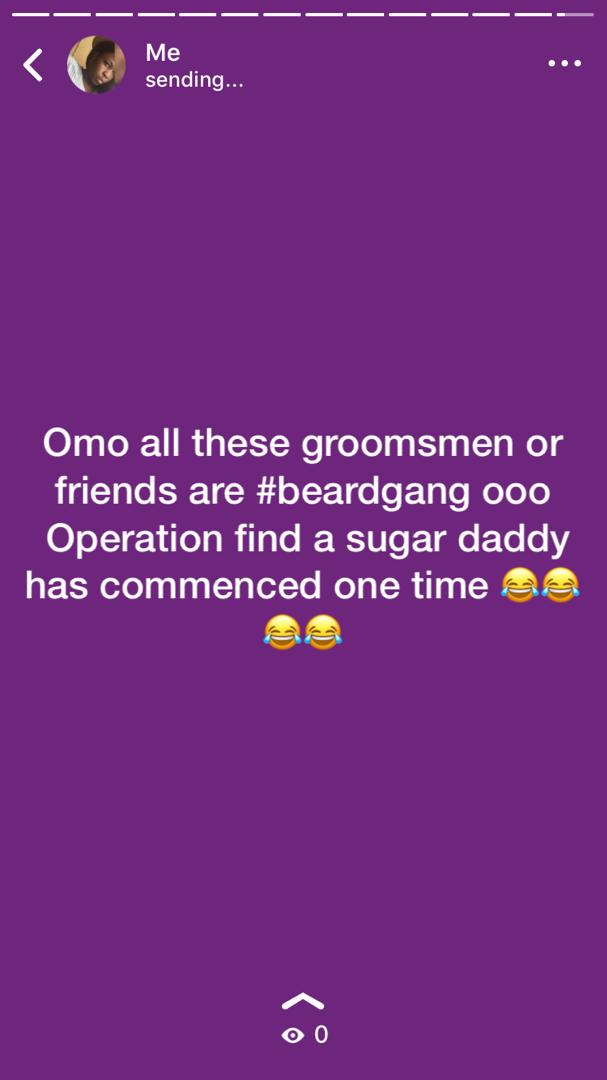 It felt like God was smiling upon me when I sighted my cousin's future husband, omo see fine boy. First, I'm sure my cousin carry eyes go market and if groom fine like this then surely he would have some fine bobo friends. My eyes were blessed when I finally sighted his crew. Immediately I put up my phone to take some pictures and make videos while checking out the men, truly God is good. I finally sighted the one sugar daddy for me! Taking a quick photo while trying to make eye contact and smiling at him, I sent the picture to my babe.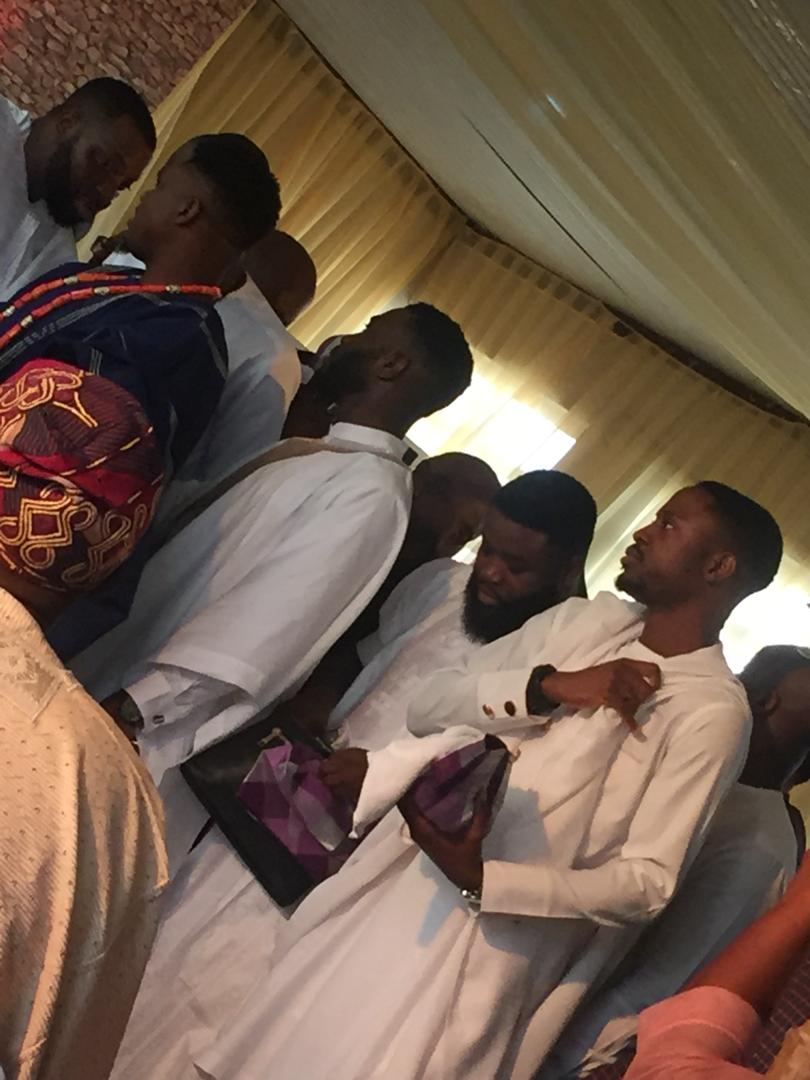 I wasn't fazed when he did not look towards the area where I was seated. I was sure that before the end of the party, he would have more than enough time to see me and talk to me. For the few minutes it took for me to scope out my sugar daddy I forgot totally about the pain of my gele. Suddenly though I was hit with the pain again and I had to speak up. I was ready to go and remove the offensive thing from my head, it will not kill me before my time. My aunt followed me to the bathroom though and thankfully helped me loosen it to a point where I could move my head freely.
The Bride
Back to the hall, just in time to dance in with the bride. First time I saw my cousin and damn was she beautiful. The ladies that danced in with her were just equally as beautiful and so well spoken plus they had ginger too. Dancing in with them I felt beautiful and privileged to be at the engagement. All sugar daddy ambitions aside, it was an honor to be there. After that, I sat back down to enjoy the rest of the engagement.
After an hour or so of the program, and two trips up and down the hall –just so my potential Papi could see me well I began to wonder how I would talk to him since it seemed like he was too shy to talk to me abi? Unfortunately as I started to stand up again mummy just said 'where are you going again? Come on sit down'. That's how I sat enjoying the whole event, especially when the bride was asked to carry Fila (traditional cap) and give it to her husband.
The End
Finally, the engagement ended and it was time for dance, dance, dance and the band was playing. I was already sitting dejected because I had passed where the grooms' friends were sitting about 300 times and yet my appointed one hadn't even looked at me once. Heeeee! Abi it was because I was sitting beside my mother on a table full of elderly people.
Rule 1 – 1000000 of how to get a sugar daddy: Do NOT sit with your mum. IT'S A TRAP!!! Don't do it
Click To Tweet
After party
Finally at around 6, the band stopped playing and the dj started jamming out some tunes. Anxiously I waited for the after party, so I could show that I had moves. That was when mummy called me 'won't you go home? It's already getting late ooo'. After hemming and hawing and all the scope I could use, finally I just had to go home.
On getting downstairs while waiting for my taxify ride I hoped that one of the fine bobo's downstairs would come and say hi. At least if I can't have the chosen one I can have one of those fine boys. Unfortunately the only calls I received were some mallams passing by that said 'eeeesss fhine geh'. If you see the way I hissed ehn and just walked into my ride.
Accepting my fate, I prepared to do battle at the wedding. My sugar daddy will not pass me by!!!!!!!
Are you wondering if I finally got lucky at the wedding? Read the next post in the series ……..